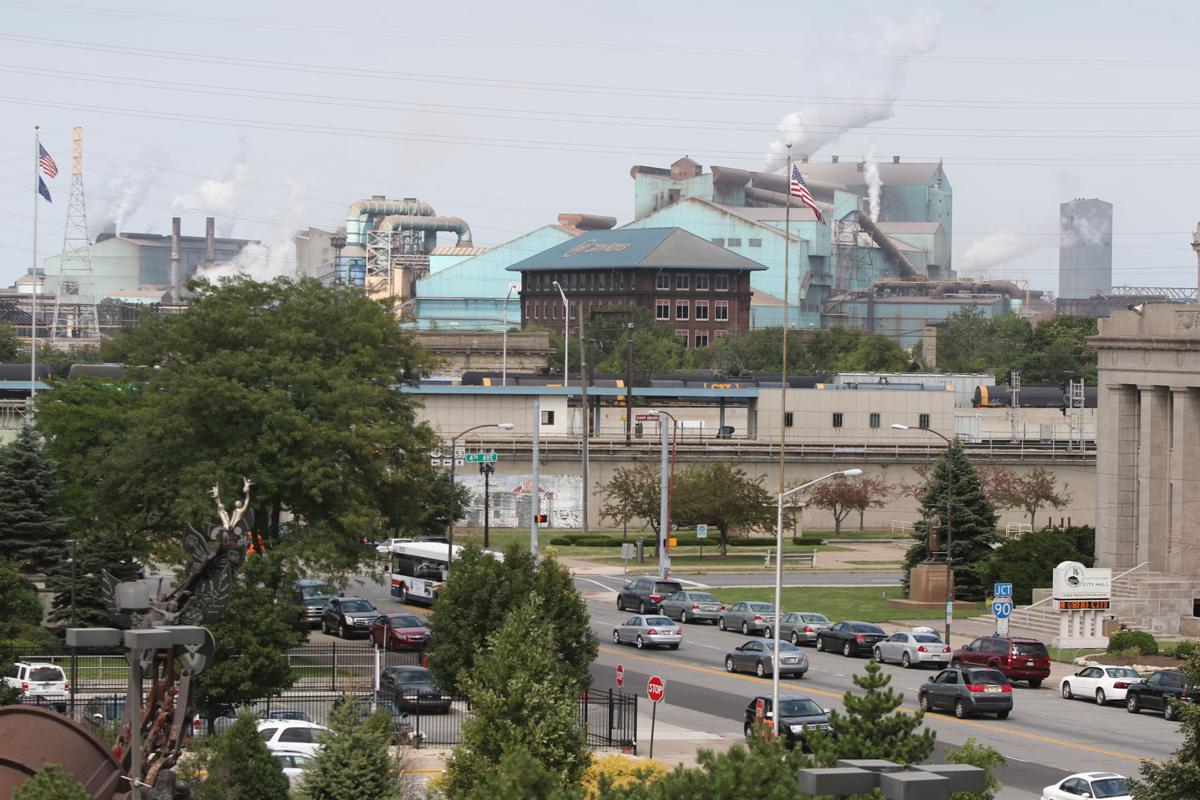 Gary Works looms over downtown Gary. The Gary metropolitan area had a $28.6 billion GDP last year, which was second in the state and as big as El Paso, Texas, and the country of Yemen.
Northwest Indiana accounts for nearly a tenth of the state's economy, and is part of the country's third-largest economy — a metro area with a larger economic output than big industrialized countries like Argentina, Taiwan or Poland.
The Gary metropolitan area — Lake, Porter, Newton and Jasper counties — had a gross domestic product of $28.64 billion last year, according to a new report from the U.S. Conference of Mayors and the Council on Metro Economies and the New American City.
That's 8.7 percent of Indiana's gross state product of $328.3 billion and far more than any metro area in the state, except for Indianapolis.
Together, the Gary and Indianapolis metros account for nearly half of Indiana's economy, the study found. The Gary metro generated nearly $8 billion more in economic activity last year than third-place Fort Wayne.
Nationally, the Gary metro area would be tied with El Paso, Texas, for 89th place nationally if it were a stand-alone metro and not lumped in as part of the larger Chicago‐Naperville‐Elgin metropolitan area.
The study found Northwest Indiana's gross domestic product is as large as the country of Yemen, and bigger than several countries, including Trinidad, Latvia, El Salvador, Syria, Estonia, Nepal, Honduras, Jamaica and Iceland.
Economically, the Gary metro is larger than nearly 300 U.S. cities, including Reno, Nevada; Ann Arbor, Michigan; Green Bay, Wisconsin; Savannah, Georgia; Atlantic City, New Jersey; and Portland, Maine.
The Chicago metro area's gross domestic product of $629.4 billion in 2015 was nearly double that of the entire state of Indiana and larger than individual countries' such as Belgium, Thailand, Norway, the United Arab Emirates, Austria and Iran.
Chicago's established, mature economy ranked 268th nationally in growth last year, expanding 1.7 percent, the study found. The Gary metro, which accounts for about 4.6 percent of the broader Chicago metro's GDP, shrunk slightly by 0.1 percent last year.
Indiana's gross state output as a whole grew at 1.1 percent in 2015, which Indiana University Northwest Assistant Professor of Economics Micah Pollak attributed to a slow first quarter. Uncertainty in the steel industry bogged the state down in the first three months of last year, he said.
"While we would, of course, prefer Indiana's GDP growth rate to be at or above the national rate, 2015 likely represents a small deviation from the trend," Pollak said.
"In general, Indiana's GDP growth tends to closely mirror that of the nation's, and the somewhat lower growth in 2015 is likely not something we need to be too concerned about at this time."
To view story on The Times website:
http://www.nwitimes.com/business/local/nwi-has-state-s-second-biggest-economy/article_796d7cae-bc79-59c2-86ba-ec6fddffde48.html